This Sweet Potato-Quinoa One Pot is a great recipe for a great nutritious meal. I love one-pot stews as they are incredibly flavourful, easy to prepare and don't require many dishes to use. I got an inspiration for this sweet potato-quinoa one pot from a pumpkin dish that I used to cook. However, I did not have any pumpkin and decided to experiment with sweet potatoes and play with its sweet flavor. I am not much into purely sweet-flavored savory dishes, however in combination with saur and spicy it is amazing! The hot chili and lemon perfectly balances out the dish! My husband loves this sweet potato-quinoa one pot, that is why I decided to share it with you. However, it is worth mentioning that this stew makes a healthy, satisfying lunch or dinner, with carbohydrates from the vegetables and complete protein from the quinoa.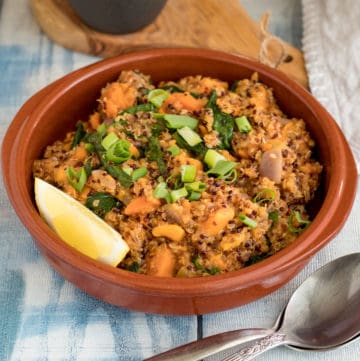 One Pot Quinoa with sweet Potato
Simple vegan one pot. Quinoa with sweet Potato
Ingredients
550

g

Sweet potato

200

g

Quinoa (dried)

2

Onions

1

Carrot

1

stem

Celery

200

ml.

tomato sauce

optional

Chilli (fresh)

2

Bay Leaf

1

lemon

Lemon juice

2

hands full

Baby Spinach

650

g

vegetable stock
Spices
1

tsp.

Turmeric powder

1/2

tsp.

Cayenne Pepper

1/2

tsp.

Dried Coriander

1/2

tsp.

Cinnamon powder

1/2

tsp.

Nutmeg

1

tbsp.

Smoked sweet paprika

to taste

Salt and Pepper
Instructions
Prepare the Vegetables
Chop the onions, celery, carrots, and sweet potatoes into cubes.

Rinse quinoa under cold water in a strainer.
Make One Pot
Saute onions, garlic, celery, and chili on medium-high heat with or without your oil of choice until the onions are transparent

Add carrots, sweet potatoes, and all the spices, tomato sauce and saute again for 1-2 minutes

Add quinoa and vegetable stock and bring to a boil. Then reduce the heat to low and cover with a lid;

Simmer under closed lid for 20-25 minutes, then add spinach and stir well

Turn off the heat and add lemon juice. Enjoy!
Notes
If you happen to have pumpkin, you can substitute sweet potato with it.
I intentionally used spices like nutmeg and cinnamon to accentuate the sweetness so that the main flavor of the dish will be sweet and spicy. However, if you want to feed kids, reduce the chili and cayenne pepper, so it will mainly sweet.
If you want it funnier like a soup, add more vegetable stock. I generally like it thick.
 You can serve the sweet potato-quinoa one pot with fresh parsley, lemon juice, green onions (scallions) and crushed nuts or seeds.
If you are interested in the other vegan, healthy and satisfying sweet potato recipes, check out this Healthy Sweet Potato filled with Garbanzo Beans and Tahini Sauce recipe.
Please share, like and leave your comments down below! I would be happy to hear your feedback and how my recipe turned out for you!
Thank you,
Victoria.