This recipe is incredibly easy to make, and it is so flavourful and sweet with fresh herbs and a garlic kick to it! Sweet potato is a great source of the essential nutrients and carbohydrates combined with chickpeas, and you get your carbs and protein in one meal. Moreover, sweet potato and chickpeas feed the good gut bacteria and improve digestion.
This dish is good for:
Kids
Fitness athletes
Families
Sweet food lovers
Garlic lovers
Busy vegans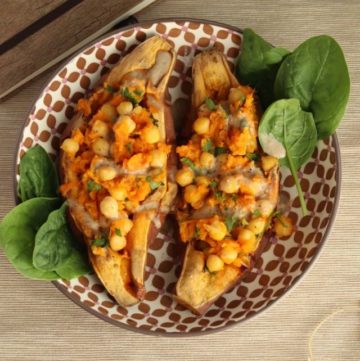 Healthy Sweet Potato filled with Garbanzo Beans and Tahini Sauce
Ingredients
For 2 portions
1

large

sweet potato

200

g

cooked or canned chickpeas

1

garlic glove

Fresh parsley/ baby spinach

Salt and pepper to taste
Tahini sauce
Tahini paste

Water

Lemon juice or apple cider vinegar
Instructions
Preheat the oven for 200 C

Cut the sweet potato lengthwise and brush with olive oil (optional)

Bake the potato halves until soft (30-40 minutes)

Take the potatoes out of the oven and scoop middle fresh so, but leave enough on the sides so that the potatoes can preserve its shape

Mash the potato flesh in a bowl with a fork

Add the garbanzo beans, pressed garlic and fresh chopped parsley or spinach into a bowl

Mix all the ingredients together and lay over the potatoes

Mix 1 tbsp. of tahini with a juice of half a lemon or 2 tbsp. of apple cider vinegar, add some water if it is too think

pour the sauce over the potatoes or serve on the side and Enjoy!