What is Lahanorizo?
Lahanorizo is a traditional greek main dish. It is prepared as a one-pot stew with white cabbage and rice, along with carrots and onions, garlic, and tomato sauce.
Is Lahanorizo traditionally vegan?
Yes. It is naturally vegan unless you might want to eat it with feta cheese. Some people prefer it with Feta, however, nowadays everything is possible and you can even add vegan Feta to this dish if you desire.
White type of rice should I use for Lahanorizo?
Traditional Greek recipe offers to use medium-grain white rice in this dish. However, as a healthy vegan food supporter, I highly recommend using whole grain rice for this dish. You can use a whole long- or medium-grain rice, any type of brown rice to be able to get all the nutrients, which are in the rice bran. If you want to know more about different kinds of rice and where to use it in vegan cooking, read this article.
How to cook Lahanorizo (greek cabbage with rice)?
It is very simple to make this flavourful greek dish. Firstly, you need to chop the cabbage, carrots, and onions into small pieces. I prefer using a food processor and give it a quick chop. Using a food processor saves time, but you can also do it by hand.
Then, just sauté the vegetables on a pan or in a frying pot for a few minutes until the cabbage has softened up, then add the rice, spices, tomato sauce, and water or veggie stock and simmer until the rice is ready.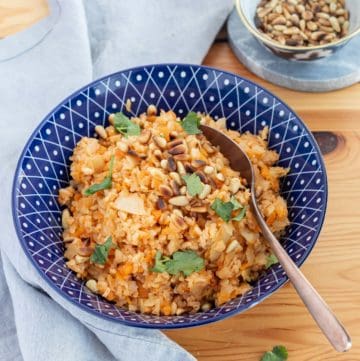 Greek Cabbage With Rice (Lahanorizo)
This Greek Cabbage with Rice is incredibly flavourful, yeat simple to make. Gluten-Free and Vegan. You can also make it oil-free.
Ingredients
450

g

White Cabbage

medium

3

Carrots

medium

100

g.

Onions

250

g.

Whole Grain Rice

500

ml.

Vegetable Broth or Water

1

clove

Garlic

1

tbsp.

Miso Paste

5

tbsp.

Tomato Sauce

100

g.

Roasted Pine Nuts
Spices
Salt

to taste

Black Pepper

to taste

1

tbsp.

Olive Oil

2

Bay Leaf
Instructions
Chop the cabbage, carrots and onions In a food processor or with a knife into small stripes/long pieces

Preheat the pan, add olive oil or few drops of water (if cooking oil-free) and sauté the chopped cabbage, onions and carrots by constantly stirring it on medium-high heat until the cabbage will reduce in size and release some liquid

Add your tomato sauce, miso paste, all spices and minced garlic, mix well while sautéing

Add rice to the pan along with vegetable broth and bring to a boil, then reduce the heat and let it simmer on low heat under the closed lid for 40-45 minutes or until the rice is soft enough. Add more broth or water if you need to keep the rice cooking.
How to Serve
Once the Cabbage and rice is ready, add minced or pressed fresh garlic clove and mix well. Sprinkle some roasted pine nuts and fresh chopped parsley.
Notes
You can use fresh chopped tomatoes instead of tomato sauce in combination with 2 tbsp. of tomato paste;
If you don't like garlic flavour, omit adding garlic at the end;
Instead of roasted pine nuts you can add any nuts of your choice;
I use whole long grain rice in this recipe. The exact time of cooking the rice with the cabbage will depend on the type of rice you are using.