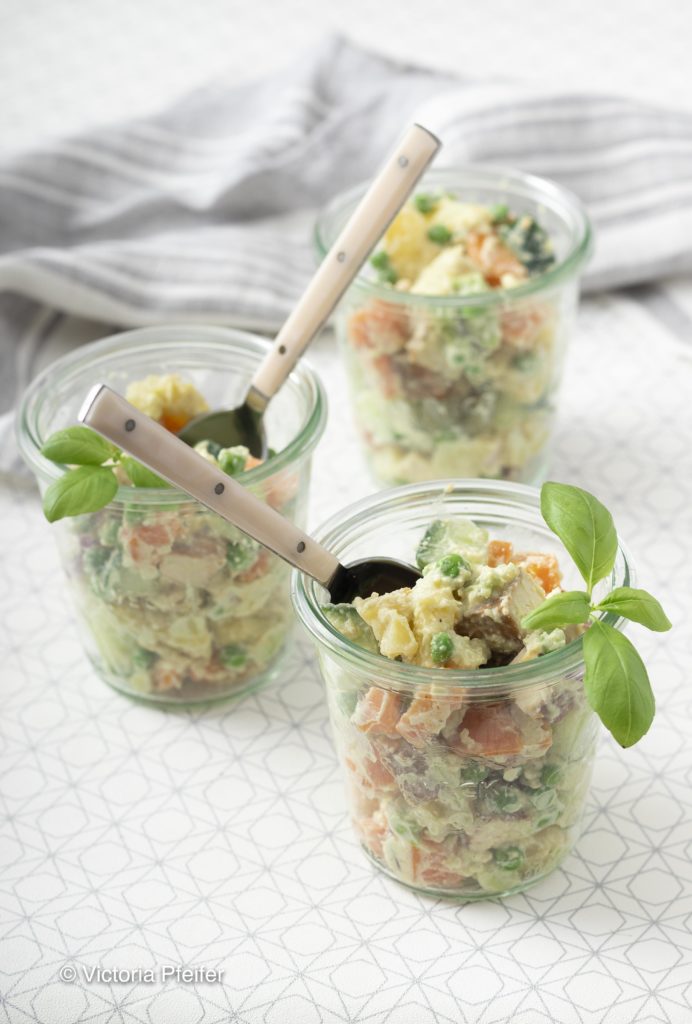 This Russian Salad is my healthy version of the traditional Russian Olivier Salad, which I grew up with. It is egg-free, meat-free, oil-free, dairy-free. Every winter season we made this salad in my family. It is a must in Russian culture to have it for the New Year's dinner. This salad is very filling and delicious. Throughout my vegan journey, it has still stayed one of my favorite winter dishes despite the place where I live now or my lifestyle. As I stick to the concept of whole foods plant-based diet, all the ingredients of this salad are completely natural and wholesome.
Main Ingredients
For this vegan Russian salad, we combine cooked potatoes and carrots with green peas, cucumber, onion, tofu, avocado, olives, and fresh herbs. As a dressing, we're using my homemade cashew mayonnaise. Originally, this salad is quite dense, as its non-vegan version contains eggs, ham, or chicken, pickled cucumbers, and heavily dressed with mayonnaise. To make it healthy, I have substituted all of those ingredients with whole plants and it still tastes amazing!
Origin and Versions
The original version of the salad was invented in the 1860s by a chef of Belgian origin, Lucien Olivier. It included capers, grouse, crayfish tails, and black caviar. By the end of the 1930s caper have disappeared and grouse and crayfish were had to come by. Then in 1939 Grigoriy Ermilin created Stolichniy salad, which is more similar to the modern traditional version of this Russian Salad. He has replaced grouse with chicken, capers with tinned pea, and crayfish with carrots. The rest of the vegetables has stayed the same. Sometimes green apples are added to this salad as well.
In my healthy version, I have replaced the eggs with avocado, mayo with homemade cashew mayo, ham with smoked tofu, tinned peas – with steamed frozen peas, and pickled cucumber with a fresh one. I prefer adding olives to support the pickled vibe and adding some more healthy fats to it.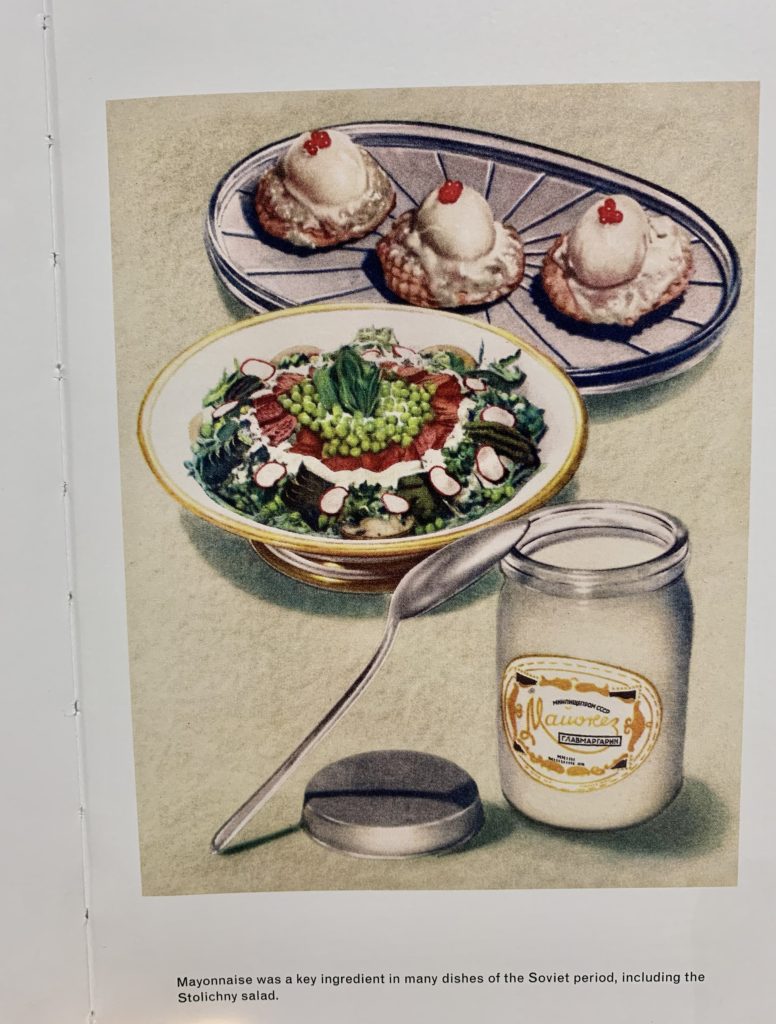 Photo from the CCCP Cook Book by Olga and Pavel Syutkin True Stories of Soviet Cousine. This book contains interesting insights from the Soviet times, views and way of life as well as political situation back then, highly recommend if you are interested in this topic.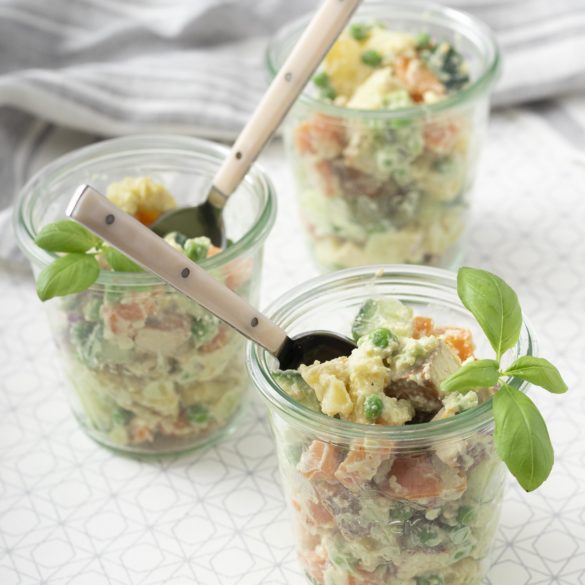 Ingredients
Smoked Tofu 200g.
Frozen Green Peas 120 g.
Potatoes (medium) 5
Carrots 3
Fresh Cucumber 180 g.
Avocado 1
 Red Onion (small) 1
Olives 7-9 (optional)
Fresh Parsley leaves 1 handful
Cashew Mayonaise (recipe here) 200 g.
Smoked red paprika
Salt and Black Pepper
Instructions
Cook potatoes and carrots with skins on until soft, but not falling apart. To make the skin come out easily, pour cold water over the cooked potatoes and carrots, keep for 5 minutes and then peel them easily. Cool them down to room temperature.
Steam froze green peas for 5 minutes and cool down to room temperature;
Finely chop onion and parsley, and chop the other vegetables and tofu into small cubes;
Combine all the salad ingredients together, add salt, pepper, red paprika, and dress with the cashew mayonnaise from my recipe.
Notes
You can add green apples, pickled cucumber, or capers instead or additionally to olives.
You can use store-bought vegan mayo, but the homemade version is much healthier.
This salad can be refrigerated for up to 2 days in a closed container.
Did You Make This Recipe?

How you went with my recipes? Tag me on Instagram at

@Cashewdate