Homemade Lemonade is a great summer drink to sip during hot days or to offer your friends and family members! We have easy access to fresh berries and fruits in most of the places in the World. These 3 summer homemade lemonade recipes are a great way to stay hydrated and get extra nutrients in your drink! Here you can find 3 unique delicious recipes: Raspberry Lemonade, Cucumber-Apple Lemonade, and Watermelon-Basil Lemonade. All of these homemade lemonades are healthy, sugar-free, refreshing, and delicious! I made them using whole fresh fruits and berries only! There is no point to sweeten your lemonade as these fruits are so tasty and naturally sweet already! Juts make these interesting combinations and enjoy! Each lemonade recipe is for 1 portion (500 ml of lemonade). Feel free to double or triple the recipe according to your needs. You can make this lemonade using still or sparkling water as you prefer!
Raspberry Lemonade
This raspberry homemade lemonade is sweet and tart. The color is incredibly vibrant and so appetizing. You get a good dose of Vitamin C and refreshment during the day! All you need to do for this one is just blend raspberries, mix them with water and lemon juice and strain through a strainer or a plant milk cloth or bag. I personally use a fine stainless steel strainer and stir with a teaspoon while pouring it through to help to push the liquid into the glass. Feel free to add mint, ice cubes, and serve cold for extra refreshment!
Cucumber-Apple Lemonade
I actually made this lemonade with lime instead of lemon. I like lime better in this combination because lemons tend to be sweeter than limes and in this lemonade apple juice is already sweet enough! Cumber adds an extra refreshment and unique taste. To make this delicious lemonade you need to juice cucumber and apples in a juicer or blend them and strain the juice out. Then simply add lime juice and water, mix and enjoy! I prefer keeping my cucumbers and apples in a fridge before making this lemonade and use cold water or add ice cubes for extra refreshment!
Watermelon-Basil Lemonade
This watermelon-Basil Lemonade is the sweetest lemonade of all three. And also the easiest to make because we just blend the watermelon with some lime juice and basil and enjoy it. Of course, the sweetness level of this lemonade depends on how sweet your watermelon is. I prefer using sweet and seedless watermelon for this lemonade to make the process easier. Lime and Basil balance the sweetness of the watermelon and add extra notes of tartness to your drink. I do not recommend straining the watermelon lemonade because watermelon is basically all water and all we need is just blend and leave the fiber in.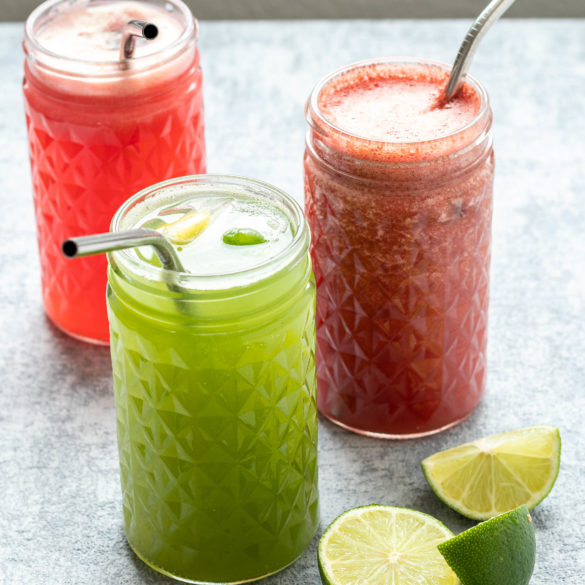 Ingredients
RASPBERRY LEMONADE

150 g. Fresh Raspberries

Juice of 1/2 Lemon

500 ml. Water

CUCUMBER-APPLE LEMONADE

150 ml. Cucumber Juice

Juice of 1/2 Lime

150 ml. Apple Juice

300 ml. Water

WATERMELON-BASIL LEMONADE

500 ml. Watermelon Flesh

5 g. Fresh Basil Leaves

Juice of 1 Lime 
Instructions
RASPBERRY LEMONADE
1. Blend raspberries, lemon juice, and water in a blender;
2. Strain it through a fine strainer or a plant milk bag and enjoy it!
CUCUMBER-APPLE LEMONADE
1. Juice fresh cucumber;
2. Juice fresh apples or add store-bought apple juice;
3. Mix the two juices with water and lemon juice and enjoy!

WATERMELON-BASIL LEMONADE

1. Add watermelon flesh and basil leaves to a blender, blend them well;

2. Squeeze lemon juice in it and enjoy it!

Did You Make This Recipe?

How you went with my recipes? Tag me on Instagram at

@Cashewdate