This vegan sweet potato Fondue is a real Christmas holiday treat! It is alcohol-free, dairy-free and sugar-free. All the ingredients are basically vegan staples, which you likely to already have in your pantry. The key is to pick the right ones and measure the amounts right! It is that simple. All my recipes are simple, and this one, not an exception. My recent trip to Switzerland has inspired me to make this recipe as it is very common, especially in winter times to enjoy a hot fondue pot with friends or family there.
I used to love buying a ready fondue mix in the store and just heat it up on the stove or on a fondue pot back to the time when I wasn't vegan. But the alcohol in Fondue has always felt too strong of a flavor for my taste. I enjoyed non-alcoholic ones a lot more, that is why I decided to make this vegan sweet potato fondue without any alcohol as well. It is, in fact, very healthy and even children can surely share it with their parents and have fun eating it together!
Does it taste exactly like cheese?
No! If you are looking for a non-dairy cheese options, it is easier just to buy a ready vegan cheese in the store. The only problem with it is that they are usually highly processed, have many unwanted, unhealthy additives and preservatives to actually make some substance of nuts, etc. to look like cow's milk cheese. That's why to mimic the cheese is not my first priority in this recipe, however, my vegan sweet potato fondue is quite creamy, soft, tangy and acidic just like real cheese! My goal in developing this recipe was to make a great, delicious, cheesy and flavorful fondue, which is also healthy, satisfying and Christmassy! And let me tell you, this is exactly what I achieved.
Is this vegan fondue a complete meal or am appetizer/side dish?
This fondue mainly consists of raw cashew nuts, which are high in healthy fats and fiber (read more about them here) (compared to real cheese, which has no fiber at all and unhealthy fat), and one whole sweet potato, which is also amazingly satisfying (read more about sweet potato nutrition here). Therefore, this dish contains fats, carbohydrates and also protein from cashew nuts, which definitely makes it a complete meal. It fills you up quickly and especially not to forget that we do eat this fondue with other components, which we dip into it.
What to dip in this vegan fondue?
There lots of options, what you could dip in it, vegetables, fruits or baked items. My favorites are:
steamed broccoli;
baked potatoes;
slightly toasted bread (gluten-free or regular)
apple cubes
celery
radishes.
How to serve this vegan fondue?
Just like a regular fondue, it is best to serve it in the fondue pot, which is heated up because we want it to stay nice and hot during the whole eating process. Serve vegetables or other dippers of choice on the plate on the side and each person should get a separate small plate to be able to dip bread first in the fondue pot and then place it to their plate first and pick it with their own fork and only then to the mouth.
If you are interested in other healthy and delicious vegan recipes for Christmas holidays, check out these Almond Pulp Cookies with Apples recipe and this Vegan Lasagna with Zucchini and lentils.
Please share, like and leave your comments down below! I would be happy to hear your feedback and how my recipe turned out for you!
Thank you,
Victoria.
Ingredients
1 medium Sweet potato
1 Onion
300 ml. vegetable stock
1 tsp. Miso paste
ADD TO THE BLENDER
250 g. Cashews
2 Garlic cloves
2 tbsp. Nutritional yeast
1 tbsp. Tahini paste
1 tbsp. Apple cider vinegar
1 tbsp. Balsamic vinegar
1/2 lemon Lemon juice
250-300 ml. Soy Milk
a pinch Cayenne Pepper
Instructions
SOAK THE CASHEW NUTS IN WATER
Soak the raw cashew nuts in water for 3 to 6 hours. Then rinse well.
PREPARE SWEET POTATO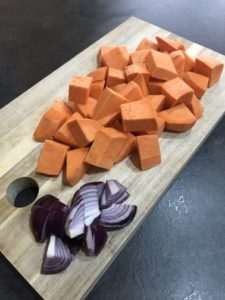 Peel one medium sweet potato and cut into cubes. Slice one onion.
Saute onion with a little bit of olive oil on a pan until it becomes soft and translucent. Then add the sweet potato cubes and 2 cloves (the spice). Saute further 4-5 minutes and then add vegetable stock and bring to a boil. After it has boiled, reduce the heat a simmer under closed lif for 10 minutes or until the potatoes are fork-tender. When you turn off the heat, dissolve 1 tbsp. of miso paste in the potato stock.
FONDUE
Combine all the ingredients from the ingredient list including soaked cashews, cooked sweet potato along with the vegetable stock, where they were cooking in a high-speed blender, food processor or Thermax. Blend until very smooth and creamy.
Then transfer the fondue mixture to the pot on the stove or directly on the fondue pot on the heater and heat it all up to 80C stirring and allowing all the ingredients to mingle together. When you heat it up and stir, the flavor will come out.
Serve the Fondue hot in the fondue pot and enjoy your winter holidays!
Did You Make This Recipe?
How you went with my recipes? Tag me on Instagram at
@Cashewdate