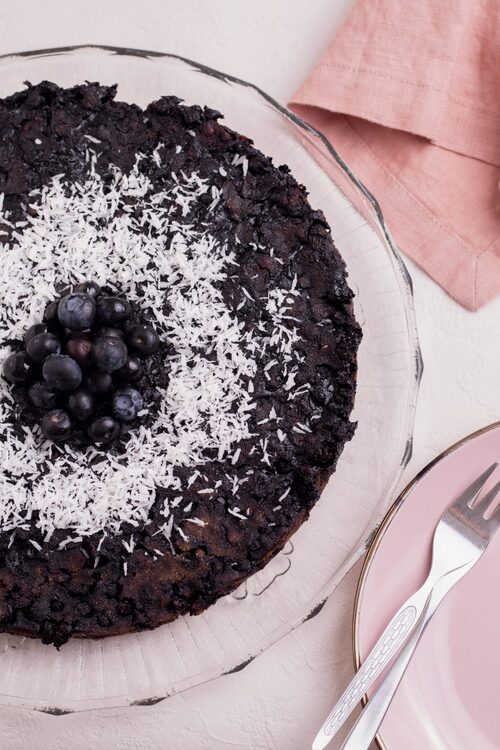 This coconut-blueberry pie is very easy to bake. It is gluten-free and vegan, of course, like all of the recipes on my blog. I found great inspiration for this recipe through my Thermomox recipe platform, however, I have made many changes to make this coconut-blueberry pie healthier and lighter.
This coconut-blueberry pie is sweet, hearty, soft and very flavourful. It does not require any preparation in advance, just make the whole pie at once!
Dry Ingredients
To make this pie completely without gluten, with the coconut notes, we would need 3 types of flour: rice flour, coconut flour, and cornflour/ cornmeal/ polenta. If you have a good grinder, mixer, food processor, you can easily grind rice into flour. I have finely ground white round rice ( the one which you would typically use for puddings) in my food processor. The coconut flour and polenta I already had in my pantry. To sweeten the pie up, I have used raw unrefined coconut sugar. Additionally, we would need gluten-free baking powder for a nice fluffiness.
Wet Ingredients
As this is the blueberry pie, first and foremost we would need the blueberries. In winter times it is the easiest to get the frozen ones and that is what I used in this recipe. The other quite important ingredients are coconut oil, water, lemon juice, and zest, and a little bit of vanilla extract to enhance the coconut-blueberry flavor.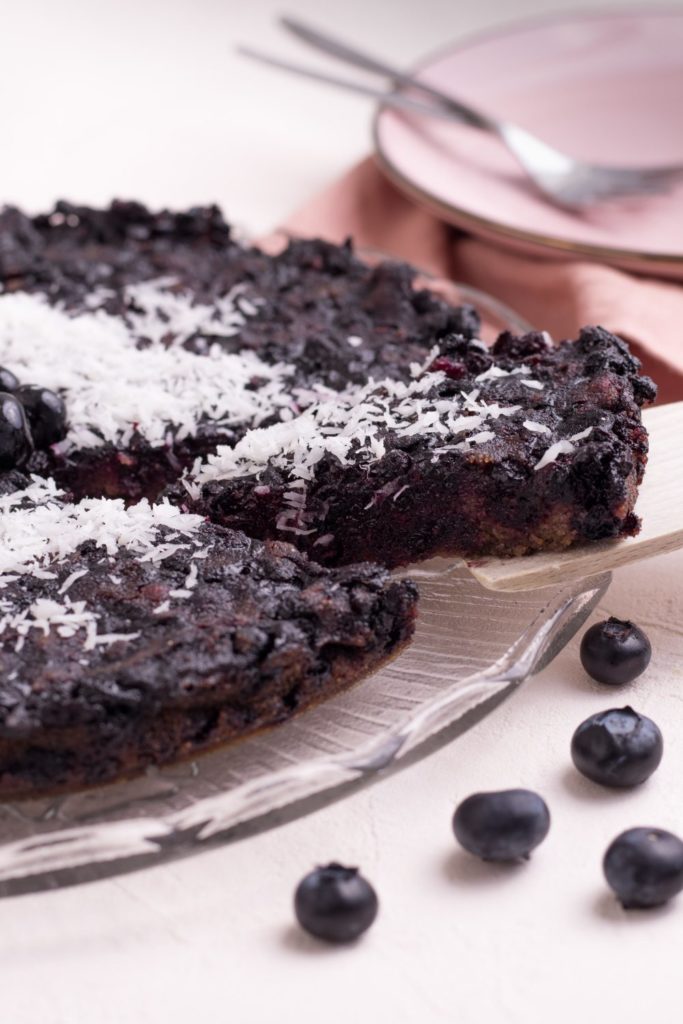 If you are interested in other vegan, healthy and easy vegan gluten-free desserts, check out this Gluten-Free Pumpkin Coconut Crisp Recipe and this Sweet Polenta Pudding with Pineapple Compote.
Please share, like and leave your comments down below! I would be happy to hear your feedback and how my recipe turned out for you!
Thank you,
Victoria.
Ingredients
DRY INGREDIENTS
100 g. Rice Flour
50 g. Coconut flour
100 g. Polenta (or Cornmeal)
100 g. Raw Coconut Sugar
2 tsp. Gluten-free baking powder
2 tbsp. Lemon zest Pinch of Salt
WET INGREDEINTS
500 g. Frozen Blueberries
1/2 lemon Lemon juice
60 g. Coconut oil
250 g. Water
1 tsp. Vanilla extract
FOR DECORATION
Coconut flakes (Shredded coconut)
Fresh Blueberries
Instructions
MELT THE COCONUT OIL
1. If you keep your coconut oil in the fridge, (which is a good idea if it's unrefined). Add 60 g. of the coconut oil in a small bowl and then pour the hot water in a larger shallow bow.
2. Place the small bowl with the coconut inside that large bowl with hot water and wait for several minutes until the oil is completely melted. ( Water bath method).
Alternatively, you can melt it in a microwave.
MIX ALL THE DRY INGREDEINTS
In a large bowl mix well all the 3 flours, coconut sugar, baking powder and a pinch of salt by hand. Alternatively, you can use a food processor for mixing it all up.
PREHEAT THE OVEN
Preheat the oven for 180C( 356 F) and prepare a round baking form (Ø 26-28 cm) with a parchment paper on the bottom. For a smoother pie removal, feel free to grease the bottom with some oil.
PIE
1. Add the rest of the ingredients to the bowl or the mixer, including melted coconut oil and frozen blueberries and mix well until there are no clumps. The consistency of the dough should be relatively liquid and smooth.
2. Pour the dough into the prepared baking form and place it in the oven for 50 minutes.
3. When the 50 minutes have passed, turn off the oven and leave the pie there for 10 more minutes.
4. After the 10 minutes have passed, let the pie cool down in the same baking form and only remove the pie from the form when it has cooled down already.
Notes
Baking the pie is very easy, just mix up all the wet and dry ingredients and bake in the round baking form for 50 minutes. I prefer freshly made pie when it is still slightly warm. However, if you prefer to make the pie in advance, heat it in the oven before serving.
If you don't have the coconut flour, mixing up just rice flour and cornmeal would work as well.
Make your pie decoration – be creative! 🙂
As a sweetener instead of the raw coconut sugar,  it is possible to try to use ground dates, stevia, monk fruit, etc. Adjust the amount of your sweetener of choice accordingly.
Did You Make This Recipe?
How you went with my recipes? Tag me on Instagram at
@Cashewdate