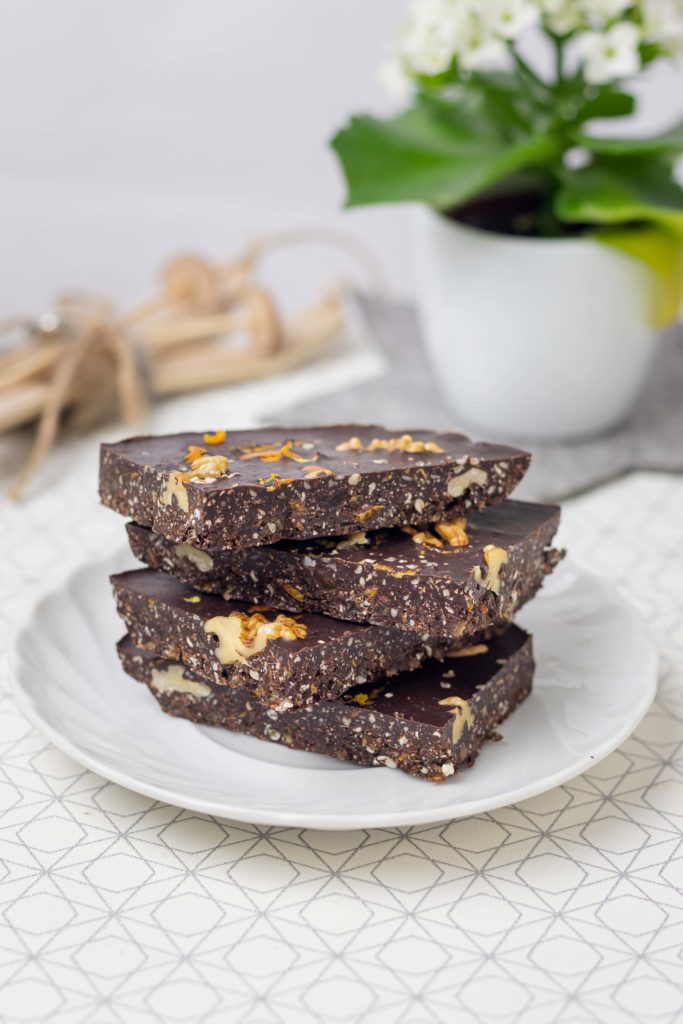 This Christmas homemade chocolate recipe is vegan, sugar-free, healthy, simple, and authentic. You can make it with your favorite creative or classic Christmas flavors or simply follow my Christmas notes for the optimal optional Christmas treat with no guilt!
How do you make vegan chocolate from scratch?
To make vegan homemade chocolate from scratch, first, we would need to make the basic chocolate recipe: mix cacao butter, cacao powder, and sweetener of your choice. It is very simple, melt the cacao butter by the A bain-marie (water bath or double boiler) method. Then, add the cacao powder and mix well. Add the sweetener (I used dates in this recipe) and mix until it becomes liquid chocolate.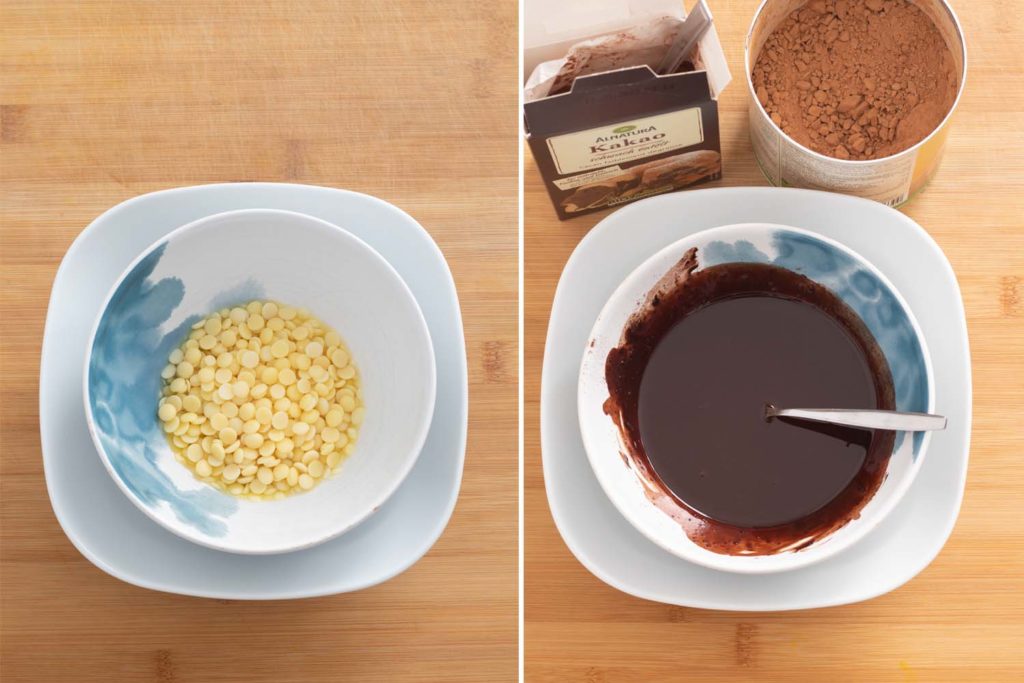 What makes this Vegan Homemade chocolate Christmassy?
To make this vegan Christmas homemade chocolate Christmassy all we need to do is to add your favourite spices, nuts, seeds and fruits which you associate with Christmas most! I decided to look at it not only from Christmas point of view but also to add things that make this chocolate healthy, satiating and flavourful! In this recipe, I added ground almonds, ground dates as a natural sweetener, cinnamon, ginger, orange zest, coconut flakes, and walnuts!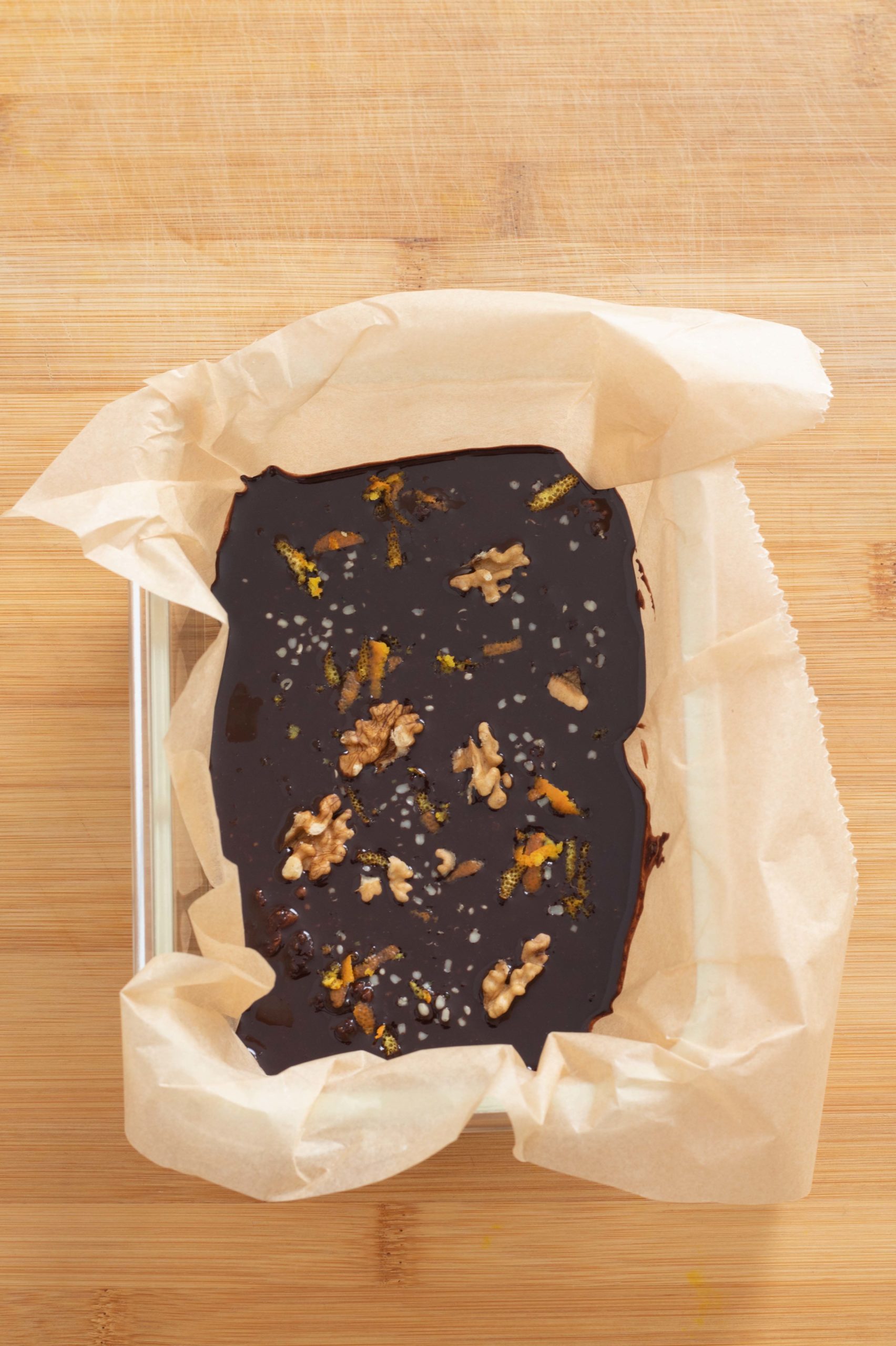 Is this dark or milk chocolate vegan recipe?
This vegan Christmas chocolate base is the base of classic dark chocolate with the only the exception that there is no sugar in it and dates instead. However, You can also make it more "milky" by adding a few tbsp. of nut, soy, or coconut milk. Another healthy alternative to make it taste and look more like milk chocolate is to add carob powder instead of cacao powder in the basic recipe or mix both. I did add a little carob powder to add extra calcium, sweetness and lighter colour to my chocolate.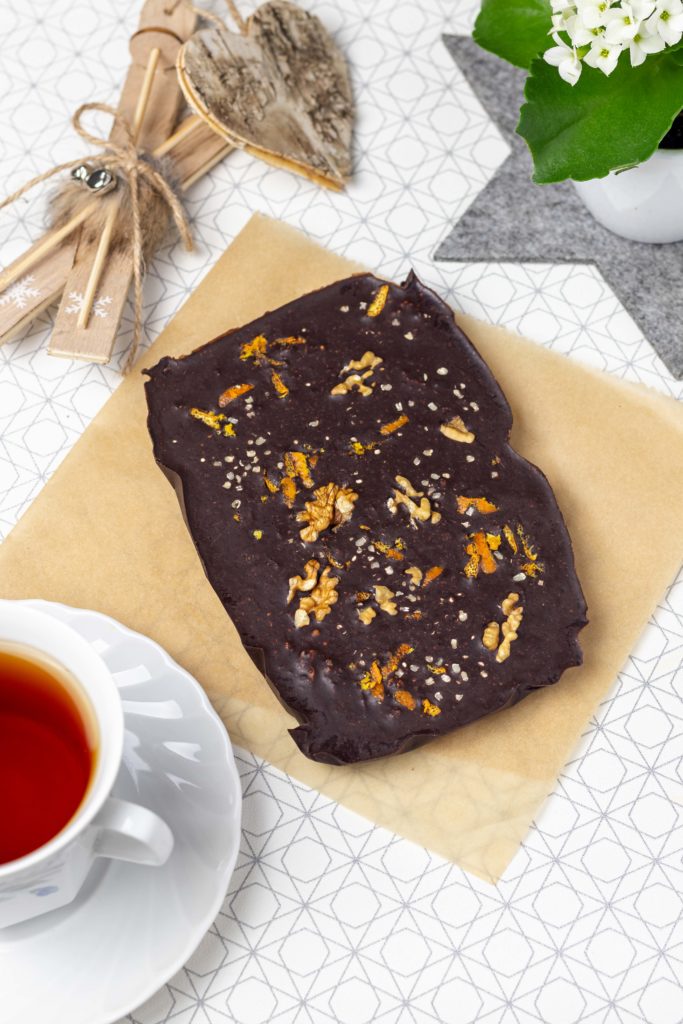 Vegan Christmas Chocolate Recipe
This Vegan Christmas Homemade Chocolate Recipe is simple, healthy, sugar-free and filled with your favourite Christmas flavours- nuts, seeds, spices and citrus!
Equipment
Refrigirator

Blender or Food Processor
Ingredients
Basic Vegan Chocolate Recipe
45-50

g.

Cacao Powder

70

g.

Cacao Butter

35-40

g.

Dates

10

g.

Carob Powder

optional
Additional Christmas Flavors
10

g.

Crushed Almonds

10

g.

Hemp Seeds

1

orange

Orange Zest

10

g

Walnut Pieces

2

tbsp.

Shredded Coconut

1

tsp.

Ginger Powder

1

tsp.

Cinnamon Powder
Instructions
Basic Vegan Chocolate Recipe
Place your cacao butter over a water bath and melt it to completely liquid. You can do it by adding hot boiling water in a shallow bowl and then put another smaller bowl with the cacao butter inside of this bowl with the hot water. Then wait until it melts. It might take up to 10-15 minutes. This method is also called bain-marie method.

Crush dates in a food processor or a blender into a paste or small pieces.

Add cacao powder and dates into the melted cacao butter and stir well with a whisk or a spoon until everything is well combined.
Add Christmas Flavours to your Chcolate
Add to the chocolate while it is still liquid crushed almonds, shredded coconut, hemp seeds, orange zest, ginger powder, and cinnamon powder and mix well. Save some walnuts and orange zest to add on top of your chocolate bar to make it pretty. 

Get a container appox 10 x 15 cm. and place a parchment paper inside. Pour the liquid chocolate mass into the container, spread it up with a spatula, and sprinkle walnut pieces and orange zest on top. Then place it in the refrigerator, let it sit for 2-3 hours until completely firm. Then remove the parchment paper and enjoy!   
Notes
If you add a carob powder along with cacao, try to stick to the same amount of this component (45-50 g. of powder all together). You can add carob as a part of it or completely substitute cacao powder with it. That way it will be lighter in color and sweeter. 
You can add any of your favorite fruits, nuts, seeds, and spices into the basic vegan chocolate recipe to achieve the desired flavor.