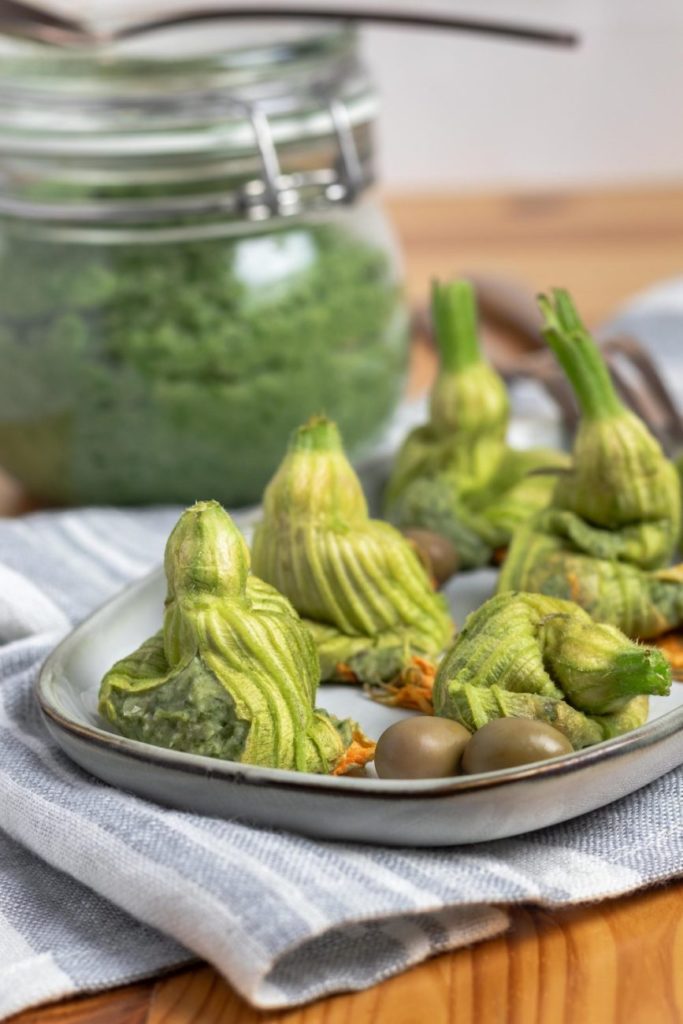 Zucchini Flowers
I got the inspiration for making these vegan stuffed zucchini flowers from Italy. I recently came back from our short holidays in Tuscany. It was the end of September and the zucchini flowers seemed to be in the season there.
They offered them in restaurants and you could easily find a package of fresh zucchini flowers in a supermarket. If it is like that in your region, make these vegan stuffed zucchini flowers, you will love them!
First I have tried vegan stuffed zucchini flowers in the restaurant La Casina di Alice in Livorno. It was amazing! I got a strong desire to recreate these stuffed zucchini flowers at home so that everyone could make them even if you can't travel to Italy right now! They are healthy, light, yet packed with protein, so unique and exquisite dish to make!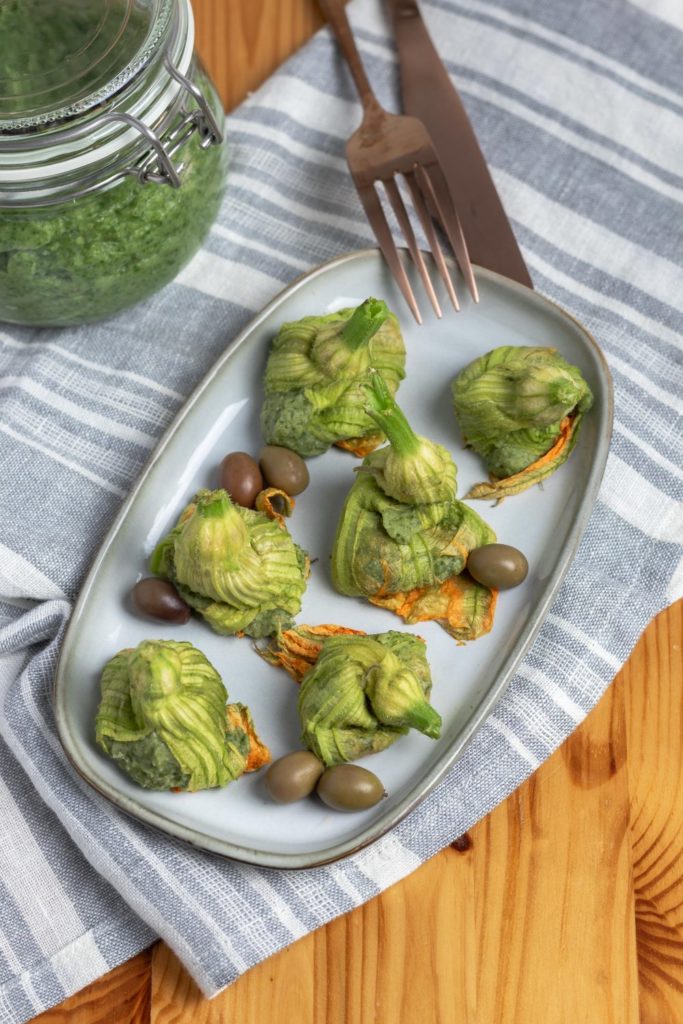 White Bean-Spinach Stuffing
Traditionally in Italy, they stuff zucchini blossoms with cheese. However, as for the vegan version I find that this white bean-spinach stuffing is a perfect one to fill the zucchini flowers with. It is meaty, rich, soft, creamy, and nutritionally packed! Spinach and white cannellini beans are nearly superfoods in terms of how much good healthy nutrients they have!
Firstly, when you saute the garlic on a pan, it spreads a wonderful aroma, which the stuffing will infuse. Secondly, spinach makes this stuffing richer. I happened to have frozen spinach on hand, and it is already pre-chopped. However, you can also use fresh spinach, just saute it with garlic a little less as the frozen one needs time to unfreeze first.
Thirdly, white cannellini beans are so versatile, and I do love using them for things like bread spreads, deeps, and stuffings as they become so rich and creamy when blended. To accompany this stuffing we add lemon juice, nutritional yeast, and some salt and paper to enhance the taste even more!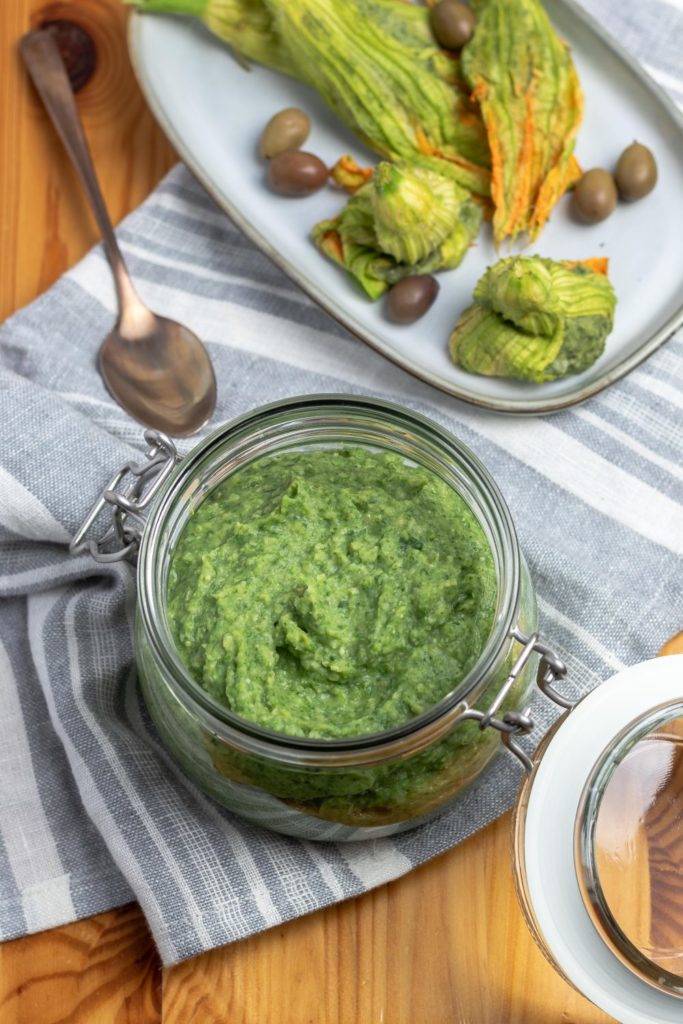 Just bake the stuffed zucchini flowers in an oven until they soften up a little, might even become golden crispy depending on how long you roast them. They make a beautiful side dish or even a main one if you serve them with some rice or potatoes on the side.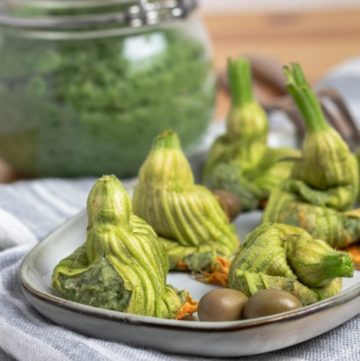 Vegan Stuffed Zucchini Flowers with White Bean-Spinach Filling
Ingredients
Instructions
PREPARE THE ZUCCHINI FLOWERS
Wash the zucchini flowers under cold water

Carefully remove the small stamen inside each blossom, you can use small scissors for that not to break the flower.

Place the flowers onto a kitchen towel to dry.
PREPARE THE WHITE BEAN-SPINACH STUFFING
Finely chop the garlic and place in a heated up pan on medium heat

Saute the chopped garlic with or without oil for 1 minute and then add the spinach, (let it unfreeze on the pan for a while if using a frozen one), saute the spinach for a few minutes until it has softened up

Add to the blender cooked white beans, sauteed spinach with garlic, nutritional yeast, lemon juice, salt, pepper, and a 3-4 tbsp. of water., depending on how watery your spinach and beans are

Blend until it all mixes up and has a consistency of a thick bread spread or butter.
ROAST STUFFED ZUCCHINI FLOWERS
Preheat the oven to 180 C (356 F);

Place a sheet of parchment paper into the baking tray and stuff each flower with 1-2 tsp. of the white bean stuffing

Spread the stuffed zucchini flowers on the baking tray so that they have space between each other

You may also brush the zucchini flowers with some olive oil to get more golden roasted look

Roast them for 10-15 minutes.
If you are interested in the other vegan, healthy, and easy gluten-free zucchini recipes, check out this Tofu Stuffed Zucchini Boats Recipe.
Please share, like, and leave your comments down below! I would be happy to hear your feedback and how my recipe turned out for you!
Thank you,
Victoria.