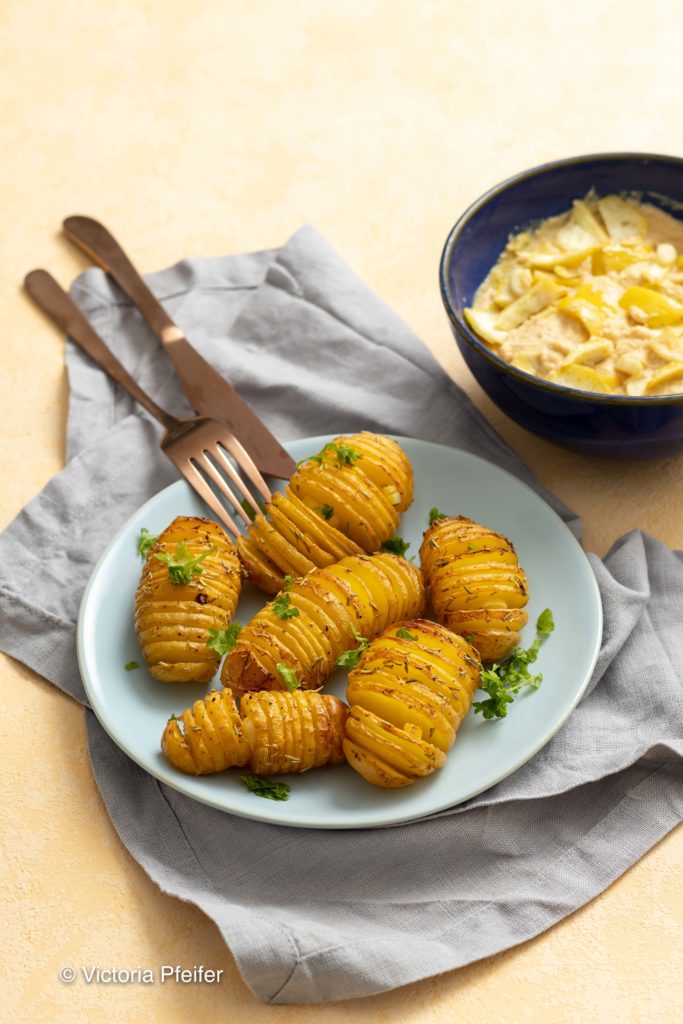 If you love potatoes as I do, this vegan Hasselback Potatoes recipe is a great opportunity to serve potatoes in a new, creative way. These Hasselback potatoes are a healthy and delicious side or main dish with minimal to no oil and very few basic ingredients. They have an incredible garlic-lemon flavour to make you and your guests love this recipe.
How to make Vegan Hasselback Potatoes?
It is very simple.
First, mix garlic powder, lemon juice, rosemary, and some olive oil in a small bowl. This mixture is the marinade, which makes the potatoes incredibly aromatic and flavourful.
Then slice each potato in the Hasselback style and prepare enough slices of fresh garlic to add even more flavour to the potatoes. (See the exact measurements and steps below)
Lastly, brush each potato with the garlic-lemon marinade and bake in the oven until golden and soft.
How to slice the potatoes to make Hasselback Potatoes?
The easiest way to be able to slice thinly the potatoes all the way through is to use two chopsticks. All you need to do is just to place each potato between two chopsticks tightly and cut with a knife as if you were just slicing them, but the knife will not go until the bottom of the potatoes because the chopsticks are preventing it. Another way is to use a mandoline or Hasselback potato slicer, which you can get on amazon. You can also use two spoons or two small chopping boards on each side of the potato in the same way.
What makes these Hasselback Potatoes vegan?
Original recipes use butter to coat the potatoes before baking them. I have also seen some recipes, which ask for frying the potatoes first on the pan, and only then put them in the oven and bake until they are soft. I have made this recipe not only healthier (no frying), but also easier to make.
What to serve these potatoes with?
As a main dish, I recommend pairing the potatoes with a dip or a sauce or stew rich in protein sources such as hummus, lentil stew, white bean stew or even a vegan chilli.
As a side dish, the potatoes are great on their own if you garnish them with some fresh pasrley or cilantro.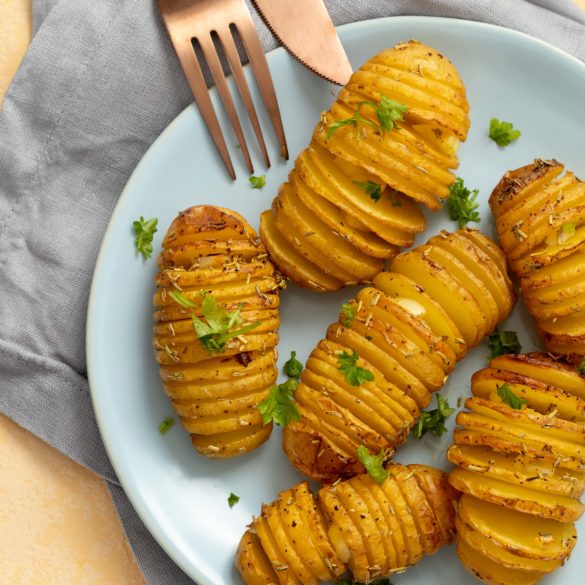 Ingredients
| | | |
| --- | --- | --- |
| Medium Sized Potatoes | 1 | kg |
| Olive Oil | 5 | g |
| Lemon Juice | 60 | ml |
| Dried Garlic Powder | 1 | tsp. |
| Dried Rosemary | 2 | tsp. |
| Fresh Garlic Cloves | 6 |   |
| Salt | to taste |   |
Instructions
1. Preheat the oven to 200 C, prepare a baking tray;

2. Wash the potatoes and place each potato one by one on a chopping board between two chopsticks and slice with a sharp knife thin slices through the lengths of each potato so that the knife does not go all the way through because the chopsticks prevent it;

3. Peel and slice each garlic clove thinly and spread the slices between the potato slices evenly in all the potatoes (3-5 slices per 1 potato depending on the size);

4. In a small bowl mix the olive oil, lemon juice, garlic powder and dried rosemary, then brush each potato with this mixture carefully;

5. Sprinkle salt on each potato and bake the potatoes around 40 minutes ( small potatoes are done in 30 minutes, large in approximately 50 minutes.
Notes
You can use any oil you like, or not use oil at all;
For the maximum nutritional value, I recommend using organic potatoes and not peel them. 
Did You Make This Recipe?

How you went with my recipes? Tag me on Instagram at

@Cashewdate