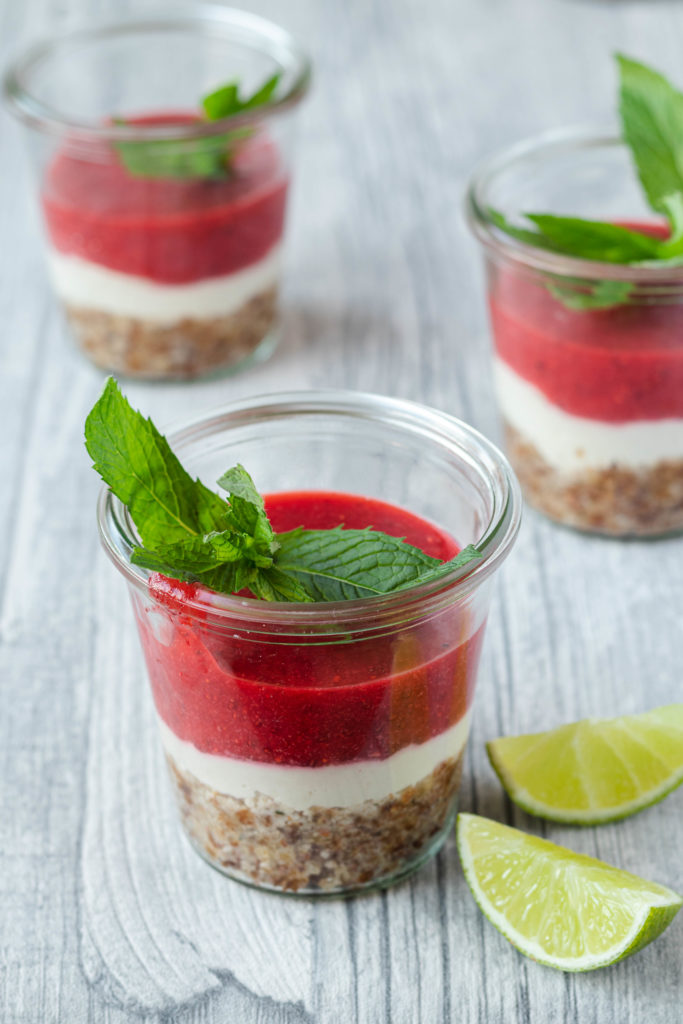 This raw layered jar dessert is an exquisite, healthy, whole food, sugar-free dessert, which has a fresh and summery vibe! Nuts, seeds, and fresh strawberries are basically all you need to create this amazing, sweet, and delicious raw players jar dessert. I love making it for family special occasions or just a delicious sweet snack.
I highly recommend to plan and prepare the ingredients for this raw layered jar dessert either in the morning of the same day or in the evening. That way it will be quick and easy to assemble the dessert when you need it.
Cashew-Lime Cream
This cashew-lime cream is very smooth, creamy, light, and fresh. To achieve fluffy and airy cream consistency I recommend soaking cashews overnight. Then on the day of serving just rinse, pat dry and blend them with water, lime juice, and cinnamon.
Strawberry-Chia Pudding
I love this strawberry-chia pudding combination as a top on my layered dessert! Fresh strawberries are a delicious spring-summer treat. Simply combine chia seeds, 1 tablespoon of maple syrup to intensify the flavor and strawberries. Then let it sit overnight or at least 4-5 hours in a fridge. It is a great healthy marmalade or jam alternative and perfect for this raw summer dessert or as a topping for pancakes for example.
Nut Desert Base
This nut base is very sturdy, sweet, and a little chewy. All we need for this delicious base are almonds, shredded coconut, hemp seeds, dates, and almond butter to help it stick together. The consistency of the base should be minced and stick together well so that you can press it to the bottom of the jar. I have used a small wooden flat press tool, but even fingers or a spoon will do the trick!
Should I use coconut oil to stick the base together?
I see that often "healthy recipes" recommend using coconut oil in raw desserts to help the nuts stick together. Coconut oil is pure saturated fat, which we don't want in our healthy diet. Watch this video by Mic the Vegan to learn about coconut oil. That is why I highly recommend using nut batters instead! They are much healthier, whole food oil alternatives! I usually have almond butter on hand and that is what I used. However, you can use any nut butter of your choice In his raw layered dessert.
***
If you are interested in the other raw vegan, healthy, and easy vegan gluten-free desserts, check out this Raw Healthy Carrot Cake Recipe.
Please share, like, and leave your comments down below! I would be happy to hear your feedback and how my recipe turned out for you!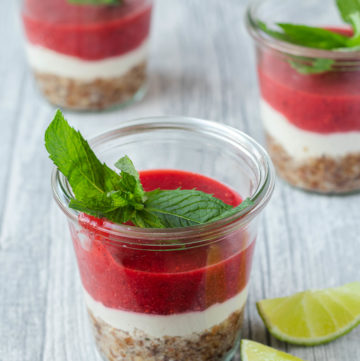 Raw Layered Dessert with Strawberry-Chia Pudding
This raw layered jar dessert is an exquisite, healthy, whole food, vegan, sugar-free dessert, which has a fresh and summery vibe!
Ingredients
Cream
200

g.

Raw Cashew Nuts

1

tsp.

Cinnamon Powder

150

ml.

Water

1/2

Lime Juice

or Lemon
Strawberry-Chia Pudding
350

g.

Fresh Strawberries

4

tbsp.

Chia Seeds

1

tbsp.

Maple Syrup

optional
Nut Base
150

g.

Almonds

100

g.

Dates

50

g.

Shredded Coconut

1

tbsp.

Hemp Seeds

optional

4

tbsp

Almond Butter

2

tbsp

Water
Instructions
Soak Cashew Nuts in Advance and make Cashew Cream
Pour some cold water over the cashew nuts so that they are fully covered and soak them overnight or for 6 hours. After soaking, drain the cashews, rinse under cold water and pat dry

Add soaked and drained cashews to the blender along with lime juice, cinnamon, and water and blend until smooth and creamy
Prepare Strawberry-Chia Pudding in advance
Add to the blender fresh strawberries and blend until almost smooth

Add maple syrup and chia seeds, and mix well (a quick blend or whisk to spread up the chia seeds evenly)

Keep it in a fridge from 5-6 hours and then proceed to the desert itsel.
Prepare the Base
Add dates and almonds to the food processor and process until they look minced

Add to the minced almonds and dates in the food processor shredded coconut, hemp seeds, almond butter, and hot water, slightly process until well combined

The mass should be sticky and thick so that it will be easy to shape the cake base
Layer Up the Dessert
1. Prepare 6-8 glass jars (depending on the size)

Spread the nut base equally between the jars and press to the bottom with fingers or a flat-ended kitchen tool, flatten them up

As a second layer add the lime-cashew cream to each jar

As a top add the strawberry-chia pudding and garnish with mint leaves.