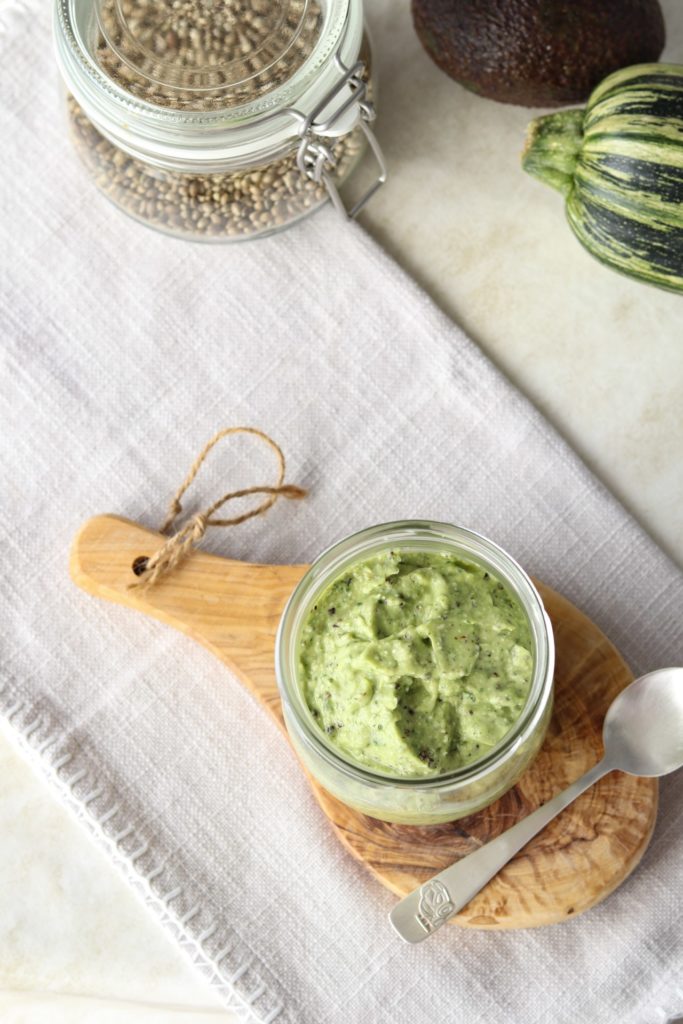 This avocado zucchini pesto will definitely brighten up your dishes weather vegan or not. Pesto is such a versatile italian sauce,which is commonly used for pastas, pizzas, salads and as a bread spread.
I love making avocado pesto, because creamy avocados are a great source of potassium and omega 3. This pesto is oil free ( oil is actually not a whole food, because the oil is pressed out of seeds and nuts therefore it is unnaturally concentrated.
But this post is not meant to advocate is oil healthy or not. I just want to give you an amazing avocado-based pesto , which is packed with fresh herbs and even a zucchini.
This pesto is creamy, flavorful, with a bit of crunch. Perfect for eating fresh. I personally love eating pesto with gluten-free buckwheat pasta. It is quick and easy vegan lunch, which provides a lot of energy until dinner!
Avocado and zucchini combination is the pesto is not just delicious, but also very practical. The zucchini ads a lot of volume to it, so basically without zucchini to get the same amount of pesto you would need a second avocado.
Zucchini makes pesto even more substantial and keeps you full longer. Also it is a great option for kids to hide more greens in the sauce. That trick has worked for my picky son.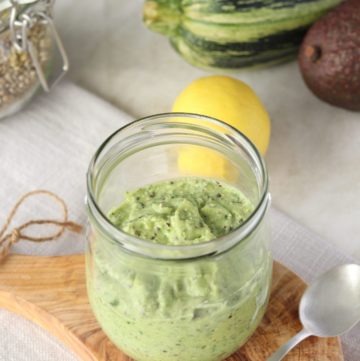 Vegan Avocado and Zucchini Hemp Pesto
Ingredients
1

large

avocado

1/2

large

or one small zuсchini

A bunch of fresh parsley or basil

(leaves only)

2

tbsp

hemp seeds

1

tbsp

pine nuts

(optional)

1-2

garlic cloves

Juice of half a lemon

Salt and Pepper to taste
Instructions
Place in a food processor or a blender all the ingredients , add a splash of water

Blend until the hemp seeds are small enough, but still seen. Pesto is all about texture, it is better not to blend it so well like in a smoothie

Keep the pesto in the fridge for 2 days maximum, best to eat fresh.
Enjoy my pesto recipe and let me know in the comments where you usually add your pesto!