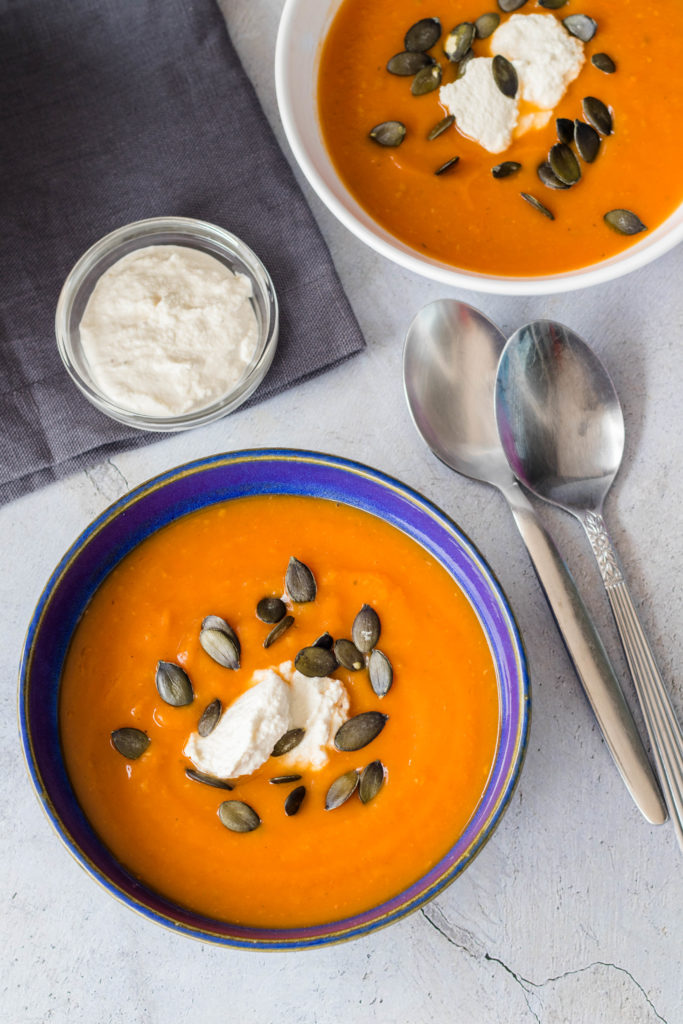 How to cook this Squash-Tomato Soup?
To continue the pumpkin recipe series for this fall, let me introduce you to our incredibly flavorful, warming in the cold days and nutritious friend – Squash-Tomato Soup. Pureed soups are easy to digest and also great as a side or main dish. The vegetables in this squash-tomato soup are all roasted in the oven. There is no boiling or frying involved at all, which makes it incredibly easy to cook. I happened to have on-hand butternut squash, but you could easily replace it with any other pumpkin sort. Roasting the vegetables in the oven opens up their flavor much more (in my opinion) than frying them on a pan or boiling. That is why this method is perfect to make the ultimate autumn blended soup!
How does this mix taste?
If you have tried a usually blended tomato soup before, this one tastes similar, but about 100 times better and sweeter. Thanks to the butternut squash, the soup becomes even more hearty and satisfying. We use only fresh tomatoes in the recipe, no canned tomatoes. Only the fresh tomatoes will bring that extra freshness and aroma to this soup. Additionally recommend serving this squash-tomato soup with some fresh cashew- creme, which ads en extra protein and a creamy note. Do not peel the butternut squash! There are a lot of nutrients in the skin and also it becomes very soft during the baking process.
Serve the soup with some home-made cashew cream and pumpkin seeds for extra creaminess and crunch!
Ingredients
SOUP
500 g. Butternut squash
700 g. Tomatoes 
2 Onions 
4 Garlic cloves
1 tbsp. dried Rosemary
1 tbsp. Smoked sweet paprika
1/2 tsp. Nutmeg 
2 tbsp. Pumpkin seeds 
300-350 ml. vegetable stock
CASHEW CREAM
150 g. Cashews 
100 ml. Water
1/2 lemon Lemon juice
Instructions
Roast the veggies first! 
Preheat the oven over 180C.
Prepare a big casserole dish or a baking tray. Chop the butternut squash into cubes and cut the onions and tomatoes in quarters. Leave the garlic cloves whole. Then place all the vegetables in the tray and drizzle with a few drops of olive oil and sprinkle with dried rosemary, paprika, nutmeg, and a pinch of salt and freshly ground black pepper.
Roast the vegetables for 25-30 minutes.

2. Make the Cashew-Cream
Mix in a blender or with a hand mixer pre-soaked cashews, 100 ml. of water, and a juice of half a lemon, blend until smooth. Finish up with a pinch of black pepper (optional)

3. Blend the soup

I use a hand mixer in this recipe, feel free to use a blender as well.
Combine the vegetable stock with all the roasted vegetables and freshly squeezed lemon juice and puree until the desired consistency. I prefer it not completely smooth with some small chunks, but it's up to you!

Did You Make This Recipe?

How you went with my recipes? Tag me on Instagram at

@Cashewdate