These crispy banana bites are my favorite quick and healthy dessert. I am thinking of how come, that I didn't share this recipe before on my blog. Sometimes I think that maybe this is too simple and not worth to share, but we all know, sharing is carrying and probably this recipe will be eye-opening for you if you are looking for a simple, quick and super sweet and delicious vegan dessert recipe. When I was visiting an old friend of mine, who isn't vegan, I made these crispy banana bites to bring over and she is said that they are amazing and she loved them so much and asked me for a recipe. That was the sign that it's really time to share it!
What do crispy banana bites consist of and how they taste?
This crispy banana bites consist of only bananas, cinnamon, nuts, oatmeal, and maple syrup. Nothing unusual, staples only. I added almonds, cashews, and walnuts just because I always have them in my kitchen, but I think other nuts would work in this recipe just as good! The ingredients are also interchangeable., you could use any kinds of nuts you like and also replace maple syrup with date syrup, etc. I wouldn't replace the oats though, they contribute the crispiness and actually help the coating stay in place. I am using cinnamon because it is almost Christmas time and cinnamon is a perfect Christmas ingredient for me. However, you can also add other spices, which you prefer, even chili, if you want to be super creative 🙂
They are very sweet, soft, so incredibly tender in the inside and crispy outside. A perfect combination of textures!
Which Bananas are best to use in this recipe?
I prefer using mediocre or ripe bananas. The riper a banana is, the sweeter and softer it is. However, because we are already using a sweetener such as maple syrup, I wouldn't recommend using overripe bananas to keep the sweetness level in a good balance.
How to serve this dessert?
It is best to serve the banana bites when they have cooled down a bit with something creamy. I usually serve it with coconut yogurt, but they are very sweet and delicious on their own, just like candy! Nut butter or a nice dark chocolate drizzle will be perfect too!
If you are interested in other simple and delicious vegan and gluten-free desserts, check out these Healthy Easy Vegan Energy Bars and Gluten-free Pumpkin Coconut Crisp.
Please share, like and leave your comments down below! I would be happy to hear your feedback and how my recipe turned out for you!
Thank you,
Victoria.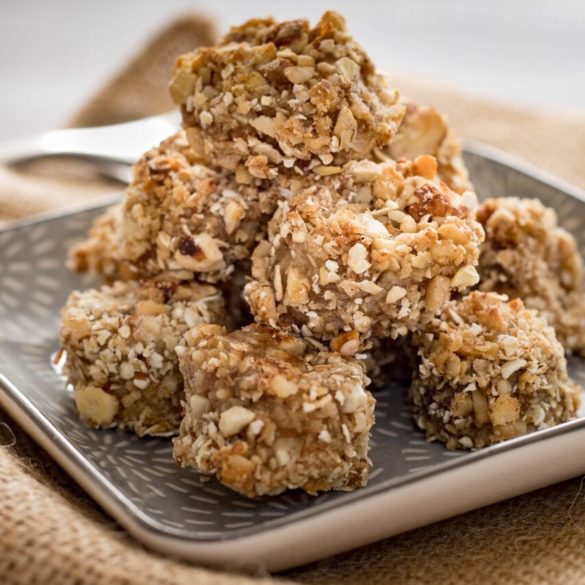 Ingredients
3 Banana 40 g. Rolled oats (or dried oatmeal) 1/2 tsp. Cinnamon powder 10 g. Cashews 10 g. Almonds 20 g. Walnuts 25-30 g. Maple syrup
Instructions
Add the nuts and oats, cinnamon and a pinch of salt into a food processor and crush them into small pieces. Like on the picture. It takes a few seconds.

Peel and cut the bananas into bite-size pieces. To a small bowl add the maple syrup. Then add the nut-oats mixture to a flat plate.
Prepare the baking tray with a parchment paper.

I prefer making my crispy banana bites in batches. Take a few banana pieces and place them into the bowl with maple syrup and stir to coat them in it from all sites.
When the bananas are coated, place them into the plate with the nut-oat mixture and coat well using a fork or spoon. The mixture will stick really well because of the maple syrup coating. When the first batch is all coated well, add them on the baking tray. Repeat with all the banana pieces. It goes really quick, and the process is similar to making schnitzels.

When all the banana pieces are well coated in the mixture, place each piece separately in the baking tray and bake for 20 minutes. Cooldown and serve!

Did You Make This Recipe?
How you went with my recipes? Tag me on Instagram at
@Cashewdate